Weddings: an excuse to have lots of desserts! Looking for a few wedding dessert ideas? As we celebrate National Dessert Day, the good people of The Knot has us covered with this fairly comprehensive list of 15 sweet treats you might want to consider for your big day.
National dessert day, a.k.a. the best day of the year, is officially upon us, and we've put together some of our favorite wedding desserts, apart from the traditional cake, to celebrate. Whether you're are a nonconformist or just want to supplement your dessert with other yummy treats, these delicious options will stand out from the crowd. From finger foods to mini versions of the classics, here are 15 dessert alternatives sure to satisfy everyone's sweet tooth.
1. Waffle Sundaes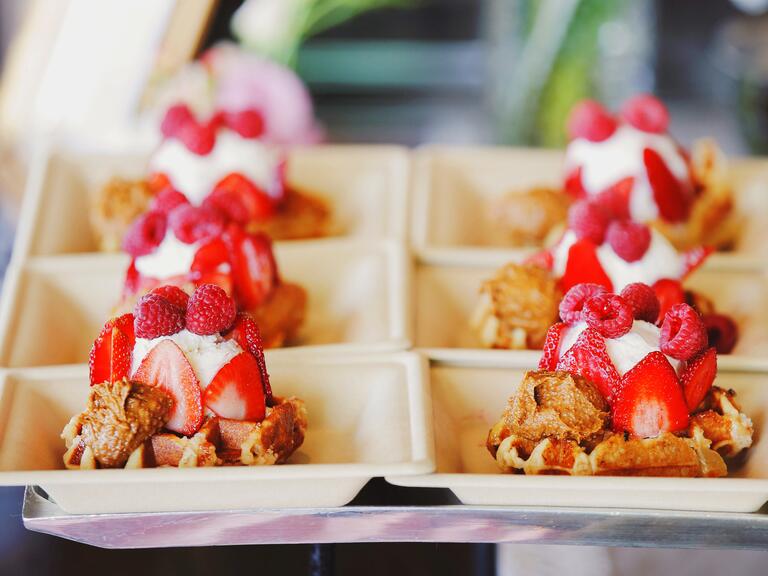 Breakfast food is an all-around crowd-pleaser that can be served at any time—especially when it's a la mode. Offering different ice cream flavors and toppings like berries, sprinkles and hot fudge will appeal to every guest's taste buds.
2. Mini Pies on a Stick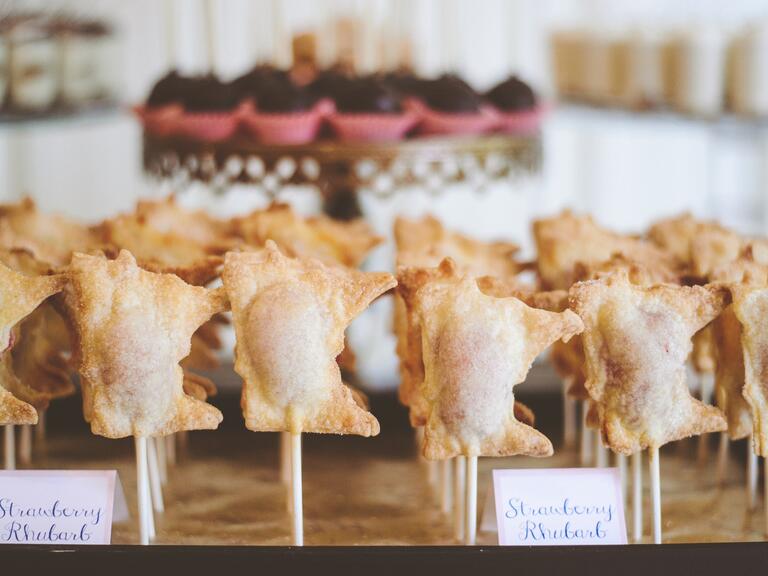 Anything you can eat on a stick is an idea we can totally get behind. Pies of all different flavors, like apple, blueberry, chocolate or banana cream, will guarantee there's something for everyone at your wedding, and their fun-size portions allow your guests to try more than one flavor.
3. Berry Parfaits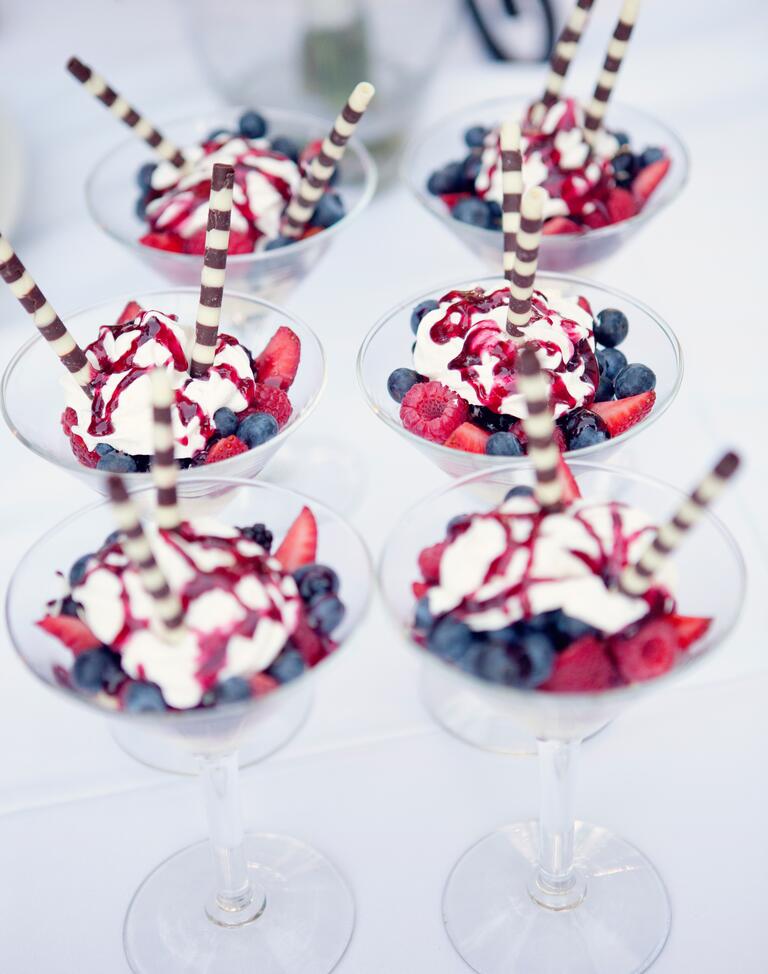 Fruit and yogurt parfaits are a great go-to dessert for a healthy (and gluten-free!) option. Guests can create their own parfait and add ingredients from a fruit and yogurt bar, or if you'd like to encourage more mixing and mingling during the reception, have attendants pass them around to keep the energy and movement levels up.
4. Cake Push Pops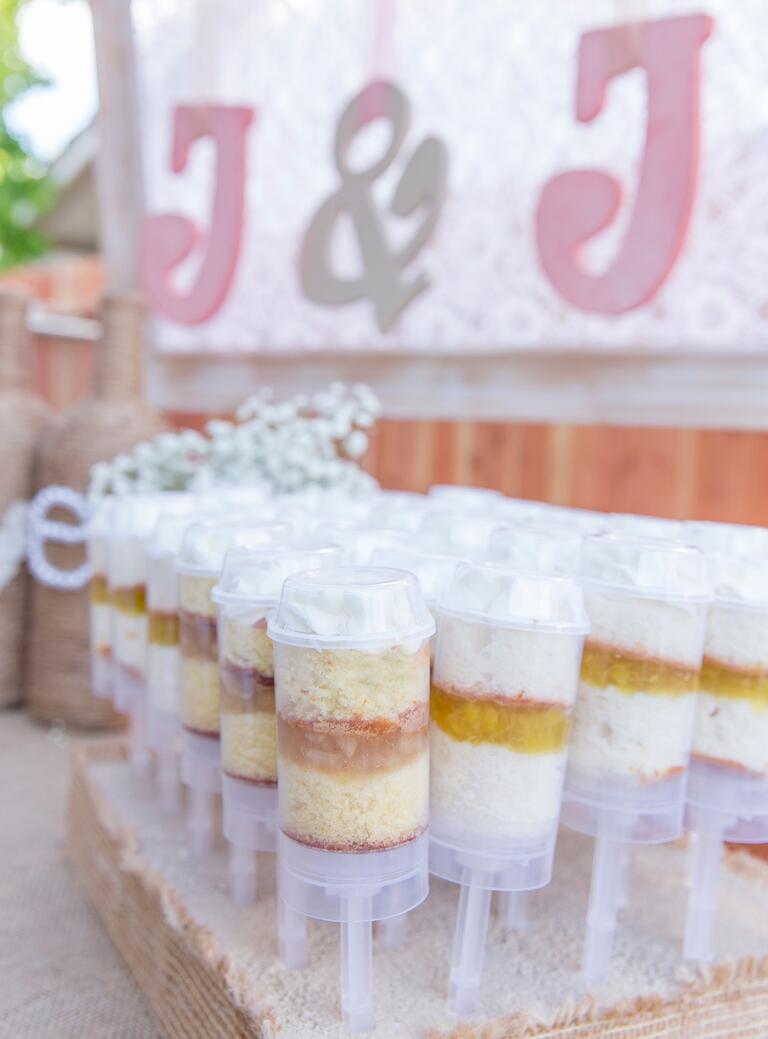 Cake push pops are easy to eat (aka guests can eat with one hand while they're getting down on the dance floor), they look super-cute on display and they take the idea of a cake pop to the next level. Color coordinate the frosting in the push pop as a nod to your wedding color palette.
5. Doughnuts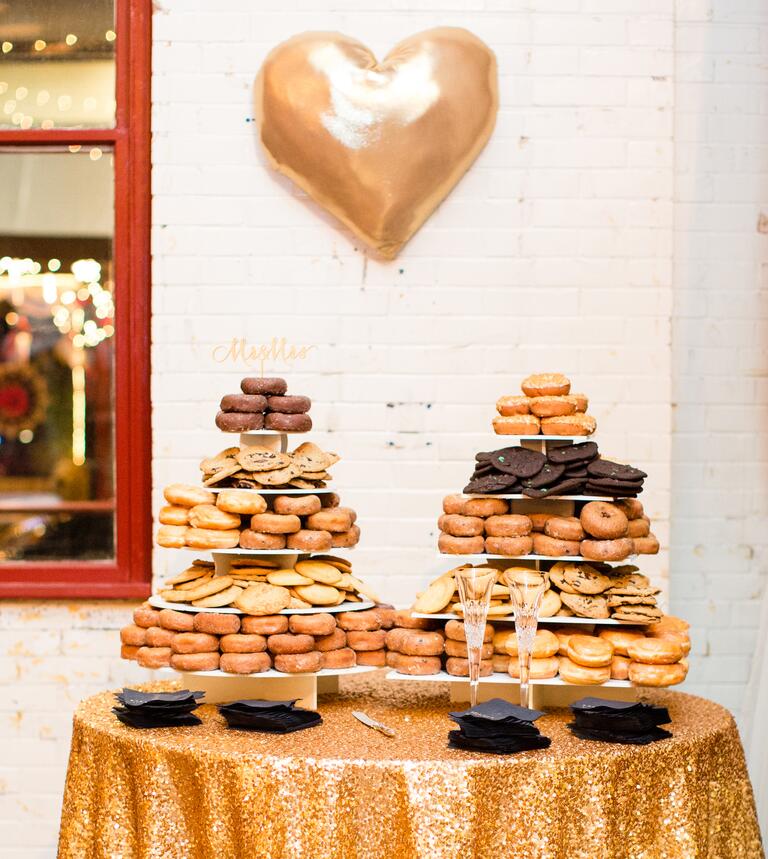 Glazed, frosted or plain old cake, everyone loves a good doughnut. Reach out to a local bakeshop to try and get the freshest, yummiest treats for your reception. Display them on tiers to mimic a multitiered cake, or go for something a little different, like a doughnut wall or mounds of little doughnut holes.
6. Pudding Parfaits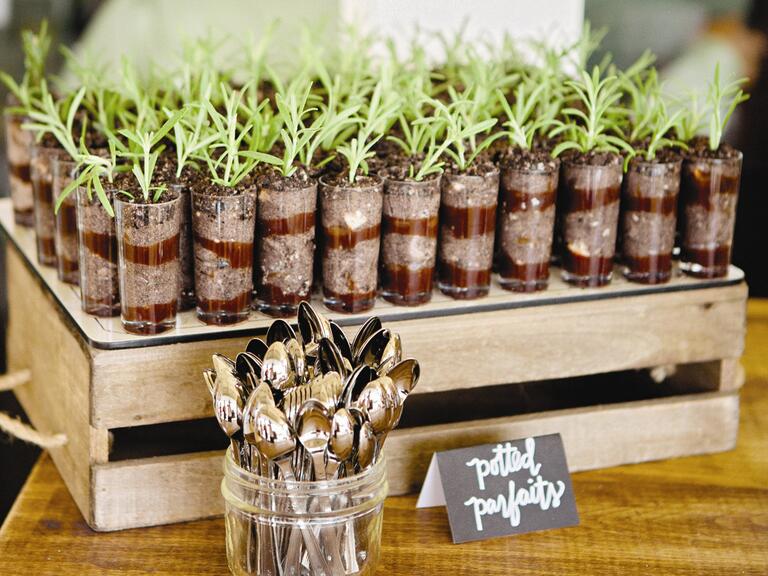 Meet the grown-up version of everyone's favorite childhood treat: chocolate pudding, Oreo crumbles and gummy worms, aka the dirt cup. The modern, sleek parfait glass makes for a fancy display, while the green garnish acts as a sophisticated upgrade from gummy worms. Just set out utensils and you're good to go!
7. Milk and Cookies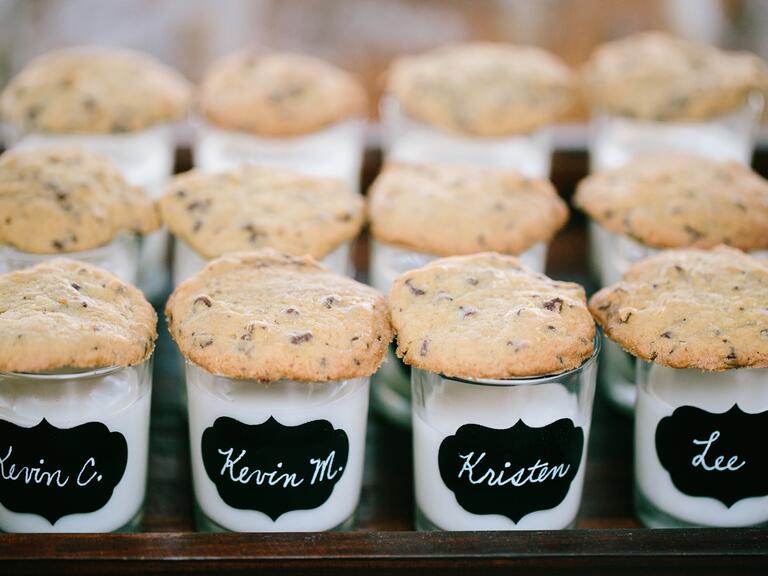 Who doesn't love a good batch of homemade cookies with a glass of milk? Give your guests a true nighttime snack experience by saving these treats until later in the evening, when friends and family need a little pick-me-up. Offer up tried-and-true favorites, like chocolate chip, butterscotch, snickerdoodle and peanut butter.
8. S'mores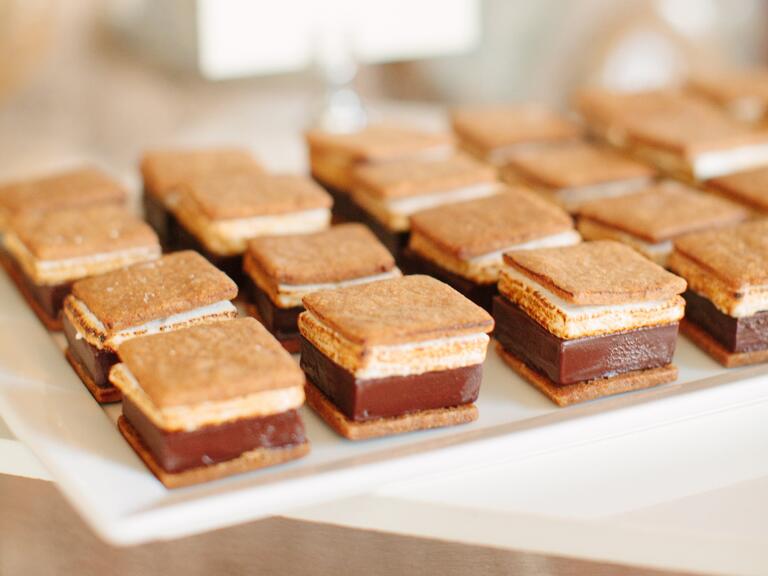 The classic graham cracker, marshmallow and chocolate sandwich is bound to be a hit. Take this campfire favorite to the next level by serving it up with unexpected add-ins, like candied bacon, cookie butter and salted caramels. (Pro tip: Put out a basket of a wet wipes so guests can easily clean up sticky fingers without having to wait in line for the bathroom.)
9. Rice Krispies Treat Cake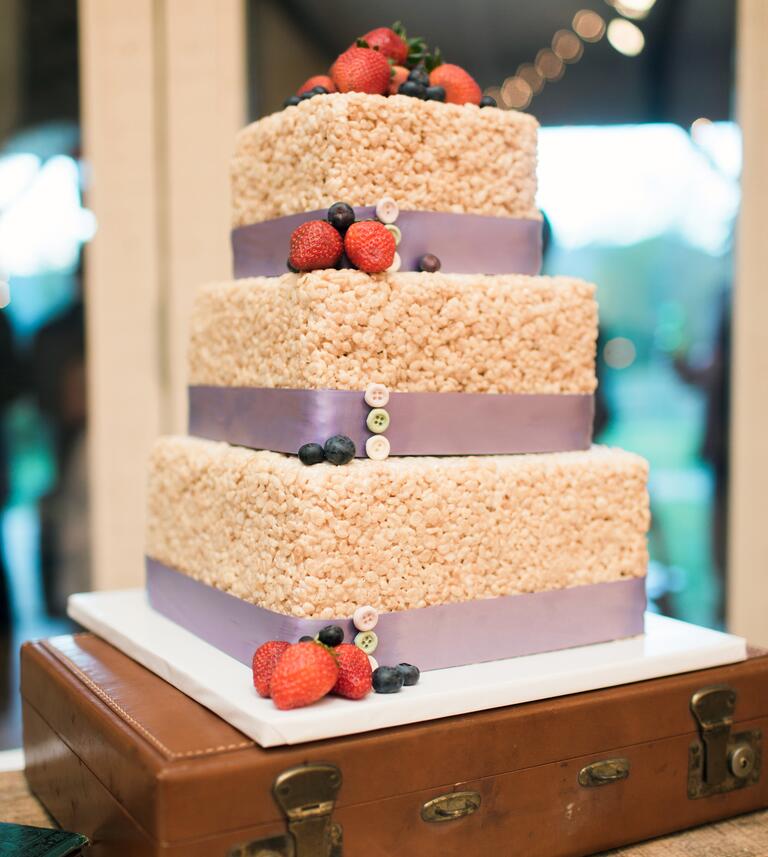 Opting for lighter fare but still want something that resembles a cake? A Rice Krispies treat cake is airy and delicious and can be molded to any shape, including (but not limited to!) the traditional tier.
10. Dippin' Dots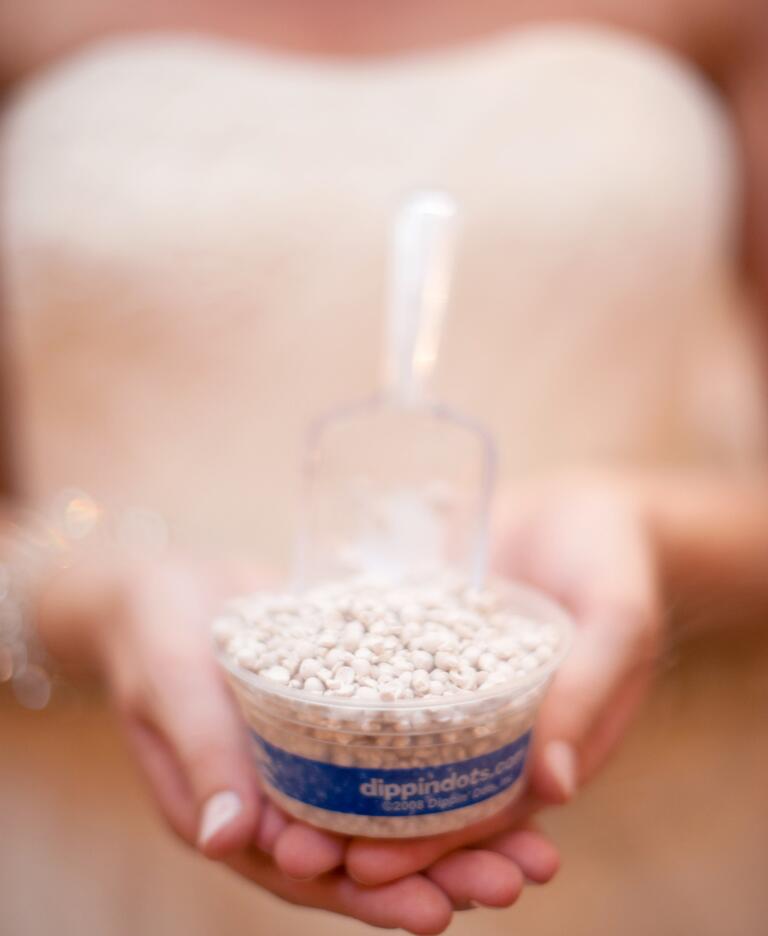 The ice cream of the future is a great mess-free alternative to its scoopable counterpart. They're fun to eat, easy to serve and come in a variety of mouthwatering flavors.
11. Whoopie Pies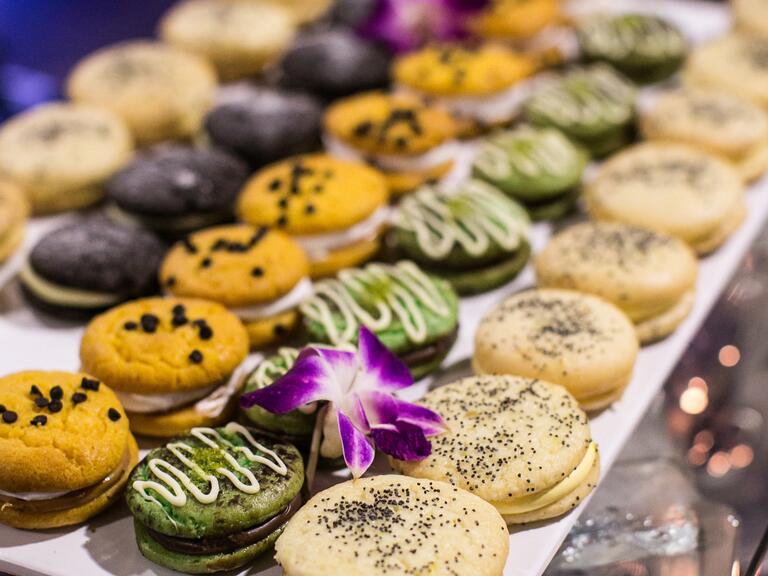 This traditional dessert from Maine is a great option. The cakey sandwich filled with frosting is a less formal, finger-food version of a conventional cake. Ask around to see if you can find a baker who offers fun flavors—that usually comes hand-in-hand with playful color palettes and artful displays.
12. Bundt Cakes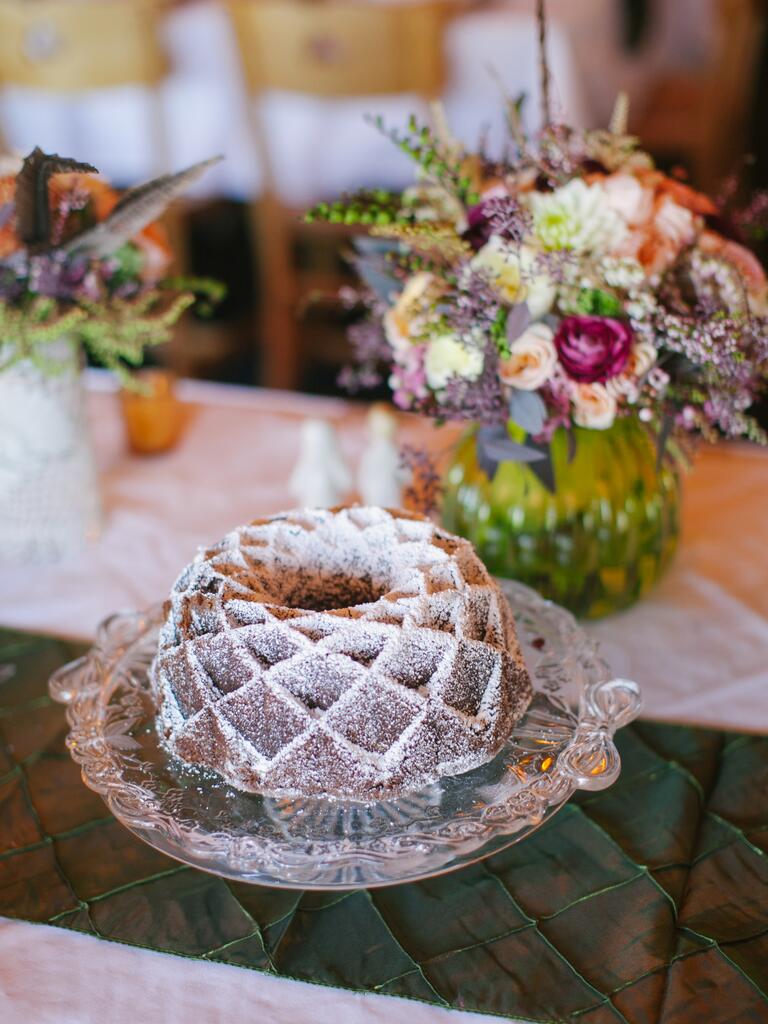 Bundt cakes are another great dessert selection because you still get a tasty cake consistency at a very affordable price (the lack of frosting and piping cut down on labor expenses). Place one on each table as a unique centerpiece (giving guests the freedom to cut into each one themselves), or display a few different flavors on a dessert table. Guests are still able to enjoy a spongy cake dessert and you don't have to go over budget on a decadent cake.
13. Cake Pops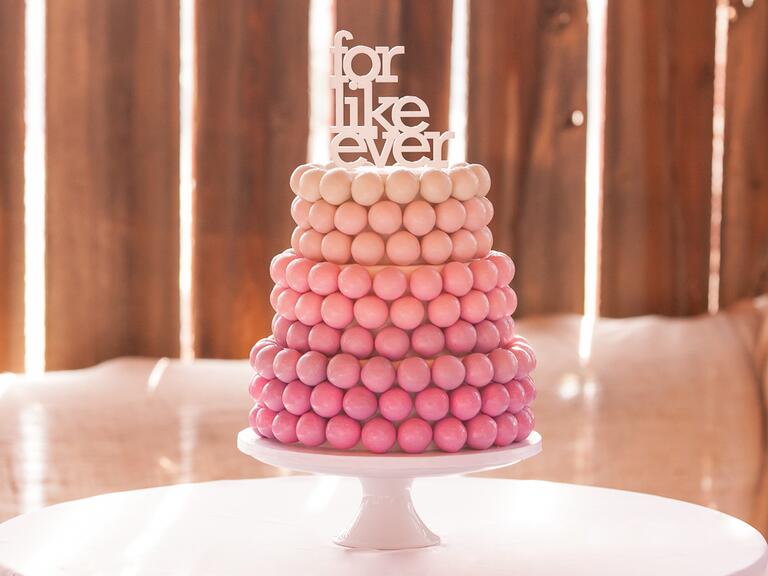 If you're looking to serve up something a little more modern but still want to bring in a kind of cake to your reception, go for a tiered cake pop cake. You can color coordinate the pops with your color scheme or create a mild ombre effect—and don't forget the topper!
14. Homemade Pop Tarts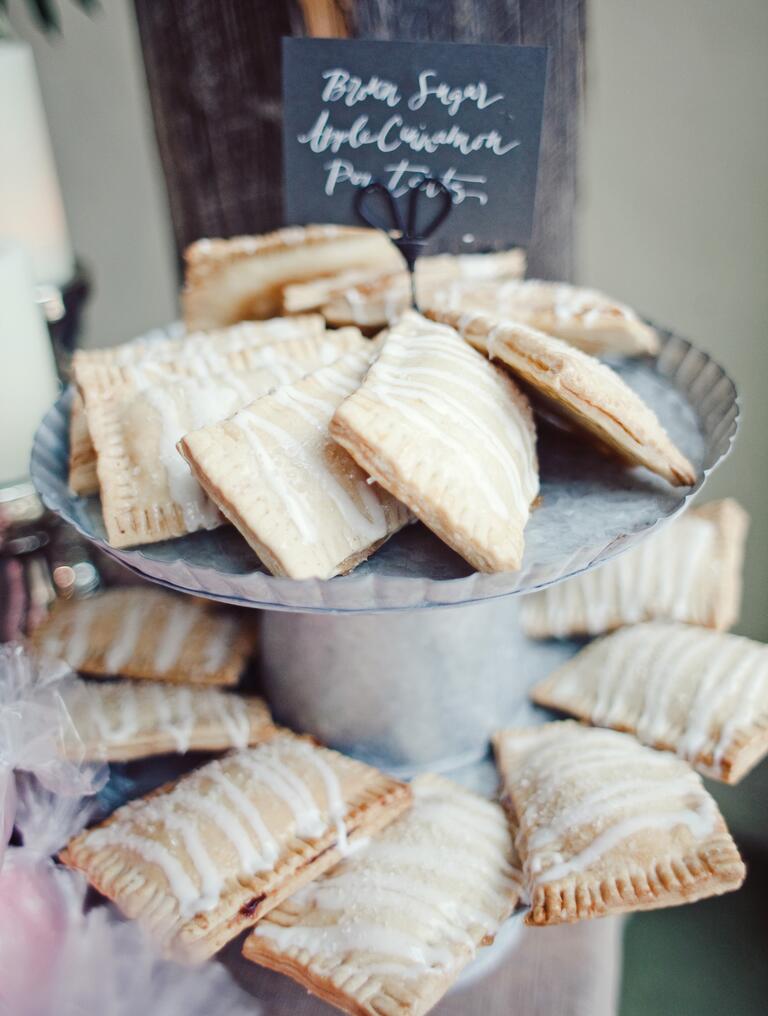 Ever since Ted's Bulletin reintroduced America to the classic pop tart (just check out their Instagram!), they've been a coveted confection. Give your guests a bite of childhood nostalgia with classic pop tart flavors like blueberry or strawberry, or go for something a little more creative like cookies and cream.
Written and compiled by Jane Asher for The Knot.
The following two tabs change content below.
Sofia's Cakes Tagaytay-Amadeo Road specializes in delicious, elegant yet cost-friendly custom cakes for Tagaytay weddings and other special occasions. We also make custom cupcakes, cupcake towers, and cake toppers, and our services now include party planning and event management, bridal car rentals, and wedding consultations.
Latest posts by Sofia's Cakes (see all)